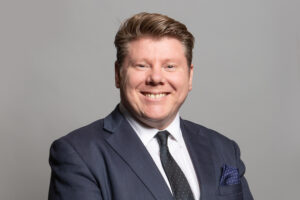 Truss appoints former company owner MP Dean Russell as new enterprise minister
A politician who previously ran his own leadership training company has been appointed as the new minister for enterprise by Liz Truss.
Dean Russell, MP for Watford, replaces Jane Hunt. She held the role, then called minister for small business, for around two months after being given the job by former leader Boris Johnson.
Before starting his own business advice and training company, Epifny Consulting, he worked in senior roles for PR companies.
Russell is also an author, having written a business book called 'How to Win: The Ultimate Professional Pitch Guide' and four titles for children including 'Mouse and the Moon Made of Cheese'.
Russell has also worked as a start-up mentor for London & Partners.
Writing on Twitter, Dean Russell said: "It's an honour to have been appointed Minister for Enterprise and Markets @beisgovuk. Businesses are the beating heart of the UK economy – and my focus will be to help them grow.
"We're already making good on our promise to cut taxes & reduce the burden on business through the Growth Plan. We must also help businesses access the finance they need and remove regulatory barriers that stifle innovation & growth. That's one of my top priorities.
"I will continue to champion our innovative and hardworking small business community ensuring they have a voice at the heart of government. I also look forward to working with @Jacob_Rees_Mogg and @MartinCallanan to ensure we seize the opportunities of Brexit."
Delighted to have been appointed Parliamentary Under Secretary of State in @beisgovuk.
It is an honour to be asked to serve in His Majesty's Government.
I look forward to delivering existing commitments and working on new opportunities to support business across the country. https://t.co/htJh2LepOD
— Dean Russell MP (@dean4watford) September 21, 2022
Read more:
Truss appoints former company owner MP Dean Russell as new enterprise minister