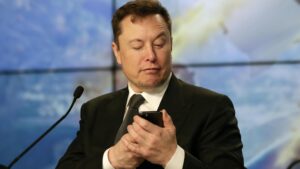 Elon Musk sells Tesla shares worth $4bn after Twitter takeover
Elon Musk sold shares in Tesla worth almost $4 billion after completing his takeover of Twitter.
The world's richest person has now sold shares worth almost $20 billion in the electric carmaker since first disclosing a stake in Twitter in the spring.
Musk later tabled a bid for the social media business, then sought to terminate it, only to ultimately buy the company in a $44 billion deal at the end of last month. He has moved swiftly to overhaul the platform and laid off thousands of its staff — about half the workforce — last week.
The tycoon has sold a further 19.5 million shares in Tesla worth $3.95 billion in recent days, according to stock market filings.
It comes after Musk, 51, signalled in August that no further such sales were planned, when he wrote on Twitter it would be "important to avoid an emergency sale of Tesla stock" should he be forced to follow through with his acquisition of the social network.
Musk's personal fortune stands at $197 billion, according to Forbes, although much of this is derived from his stakes in Tesla and SpaceX, his private rockets and satellites business. He serves as chief executive of both. Shares in Tesla, valued at $600 billion on the stock market, have fallen by more than half so far this year.
The billionaire pledged to provide $46.5 billion in equity and debt financing for the acquisition, which covered the $44 billion price tag and the closing costs. Banks, including Morgan Stanley and Bank of America, committed to provide $13 billion in debt financing.
His $33.5 billion equity commitment included his 9.6 per cent Twitter stake, which is worth $4 billion, and the $7.1 billion he had secured from equity investors, including Oracle Corp co-founder Larry Ellison and Saudi's Prince Alwaleed bin Talal.
Read more:
Elon Musk sells Tesla shares worth $4bn after Twitter takeover