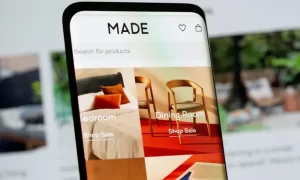 Next buys collapsed Made.com in £3.5m deal
Made.com today confirmed that its brand has been bought by Next after the online furniture retailer, whose stock soared during the pandemic, fell into administration putting 500 jobs at risk.
Made's operating subsidiary, MDL, was forced to appoint administrators from specialist firm PwC who immediately tied up the brand rescue with the high street clothing chain, led by Lord Wolfson of Aspley Guise.
No official price for the deal, which also includes the website and intellectual property but not the inventory, has been disclosed.
It is understood that Next, which has a homewares business of its own, had previously offered about £2 million for the website alone.
Insiders suggested that the total price will be around £3.5 million. PwC will take control of Made's remaining assets, including payments made to creditors.
Mike Ashley's Frasers Group was also understood to have tabled an offer for the company, which has offices in London, Paris, Berlin, Amsterdam, China and Vietnam.
Today's announcement marks the end of a remarkable 17 months for the company, one of the most high profile British retailers to fail this year, in what is likely to be a highly testing time for the sector.
Made went public in June last year at 200p-a-share, valued at £775 million. Trading was suspended last month after the shares had collapsed by 99.63 per cent in the year to 0.52p.
Made's board said that it expected the listing of its shares to be cancelled today, and the company to be wound up in due course.
Susanne Given, chairwoman, said: "Having run an extensive process to secure the future of the business, we are deeply disappointed that we have reached this point and how it will affect all our stakeholders, including employees, customers, suppliers and shareholders.
"We appreciate and deeply regret the frustration that MDL going into administration will have caused for everyone."
Made.com was founded in 2010 by Ning Li and Brent Hoberman, the founder of travel site lastminute.com, and became an iconic brand for middle-class millennials, selling high-end design at affordable prices.
It was launched on the stock market at the height of the pandemic boom in e-commerce but has since suffered from slowing demand and rapidly escalating costs. Insiders say the writing had been on the wall since Made last month abandoned hopes of finding a buyer to save it and inject the cash it needed to stay afloat.
Hoberman criticised the shift away from its previous asset-light business model, writing in a LinkedIn post last week: "Made got caught with massive inventory at just the wrong time. The model had previously been about minimal stock and wastage. What was a differentiated model morphed into being more similar to other retailers."
Next, which trades from over 500 stores and online, has been picking up stakes in or acquiring smaller retailers in recent years including brands such as Victoria's Secret UK and Reiss.
Commenting on the news, John Cullen, business recovery expert at Menzies LLP, said: "With consumer confidence falling, and many retailers and manufacturers continuing to face significant supply chain issues, Made.com is the latest retailer to enter into an insolvency process.  With energy prices and other household bills rising sharply, big-ticket items, such as furniture and home electronics, have slipped down the priority list for many consumers due to the cost-of-living crisis.
"It's not game over for the Made.com brand, however. Next has acquired the company's brand identity and intellectual property assets. It is clear that in the current climate, investors are wary about taking on a company with significant supply chain issues, where customer goodwill has been eroded due to unfulfilled orders.
"The latest ONS insolvency statistics for Q3 show that corporate insolvencies were 12% higher than the same quarter last year, and this follows a significant leap in Q2. With more businesses at risk of insolvency, it is important that they keep a keen eye on cashflow and have a strong forecast for the months ahead."
Read more:
Next buys collapsed Made.com in £3.5m deal