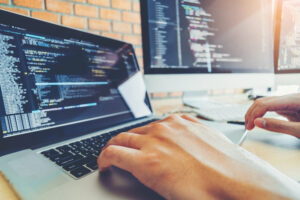 Jason DeLano Discusses His Role As a Solutions Architect
Jason DeLano is a successful solutions architect with over twenty-two years of industry-related experience.
After obtaining a Bachelor of Science in Computer Science from Siena College in 1998, DeLano worked in various leadership roles for prominent organizations including Oracle Consulting and Aderas Inc. With strong communication skills and a solid business background, DeLano works alongside clients to provide comprehensive strategies while implementing functional solutions. Currently based out of Bethesda, Maryland, he enjoys the professional challenges that come with his position.
When he is not working he is usually volunteering within his local community or spending time with his wife and three children.
1. What do you currently do with your company?
My current role is to establish technical solutions for our clients, whether that be federal or commercial. So, it may be responding to a request for a proposal from the federal government or responding to a need from a specific business. Many of our clients are looking to transition to serverless solutions from cloud providers like AWS. We work diligently to provide the best option for that particular business while also considering the most cost efficient method.
2. What inspired you to go into this industry and this role?
When I was a young kid, I really liked playing video games. And, when it was time for college, I wanted to go and study to become a programmer. So, I got to college and after giving the whole programming a look, I found myself more driven and interested in understanding the business side of it more than the core development and coding. I felt drawn towards that type of consulting role, where you are advising, matching up the right tech, and so on. However, I did enjoy doing the hands-on work of developing and reading code too so I settle on a major of Computer Science with a concentration in Business.
I came out of school, specializing in database development, which is more of the back-end department of reading from a database, manipulation of the data whether it goes in or out to make sure the right people are accessing the right data at the right time. From that point, you start to become more of a specialized programmer and grow into the role the more exposed you are to the technology integration. Most would call that a full stack development, and after that, become a solutions architect where you can put all these pieces together to design the solution. I always liked being creative when it came to problem solving and enjoyed facing different challenges everyday.
3. What are the keys to being productive that you can share?
Productivity is an interesting challenge. As you search for ways to solve different problems, you start to research, right? How people have solved a simmilar problem in the past and how you find the right approach with new technology or more effiencently. From a productivity standpoint, I like to start by listing out the tasks I want to accomplish today. In my mind as a programmer I follow the Agile Scrum approach. That is where I break my day into what is in my backlog of tasks, what's in progress, what's in testing, and then what I've done.  That way  I can break my day into smaller components, what I can accomplish in a day, what I need to put in my backlog and what I need to tackle for another day. That way I can stay on task, no matter how large or small the task is.
4. Can you share a long term goal with us?
I think the career goal, when I started off after college, was to start my own company, which I did in 2004. And did so again in 2019 with a slightly more unique approach. It's tough to say when you go into a general IT development company or start a consulting firm when there are already thousands out there. I wanted to build a company that gave me the satisfaction when I'm working for a specific customer or towards a solution that I feel is rewarding to me. Especially when I can look back on it and see how it was completed. Moreso when you can engage with customers when they choose you as a consultant, you're choosing them as a partner to work with to achieve a common goal which is fufilling the mission of the customer.
5. How do you measure success?
It varies by project. I started my career having the success of projects driven from the requirements of the consulting engagement.  My requirements may have been for example with CMS, they needed to complete four and a half million transactions within an eight-hour window. I had a pre-defined goal to mark success. Driving a lot of things off performance metrics and targets, I try to come in with an understanding as to what the goals are and what would be considered accomplished by the customer themselves. The most important thing to me is to not only accomplish what they wanted from me, but to be proud of what I've done knowing I exhausted my options to improve something in the allotted time or budget. A successful customer to me is a return customer, so, I try to make sure that everything I do helps them reach their business success or return on investment.
6. What would you say is the most valuable lesson you've learned through the course of your career?
A huge part of it is not taking on more tasks that you can handle and letting yourself completely overwhelmed. Where you cannot understand where to start and see what is being consistently added to your backlog. When I was younger, I took on a lot of things that were not exactly in my wheelhouse. I was still able to accomplish them, but not at the quality I wanted. It's a combination of staying in your own lane, the lanes around you, and sticking to what makes you feel good about your quality of work as well as contributing to the team.
7. What advice would you give to others aspiring to become a success as a solutions architect or work in the digital support field?
The best advice is to constantly read and understand what's new, what's out there, what companies you respect are doing and the trends they are setting. In the post-Covid world, a lot of the conferences one would normally go to have their speaker presentations online and for free, so you have a lot easier access to material and lessons learned that are presented in conferences.  Before you couldn't have possibly attended all of them, now you can watch them at your leisure . A lot of people like to share stories about what problems they encountered and how they were able to overcome it with the technology at their fingertips. The information is out there, along with the history. You can make use of it and can almost plan what kinds of services that may or may not be needed in the future.
8. How do you maintain a solid work life balance?
It's crucial to establish personal and professional boundaries. Being a husband and father is very important to me and understanding what times of the day I must fulfill each of these roles. Obviously, there's times in the IT industry where you're needed outside the core business hours, as it's rarely a standard eight or nine to five job. Understanding how to balance between the two is a challenge. Most people around the world face that challenge. It's being able to compartmentalize that day to be able to put the thoughts of work behind you when it's time to go home to focus on yourself and your family.
9. What is a piece of technology that helps you the most in your daily routine?
I would say I like to use a whiteboard to organize my thoughts. It's funny because, being in the IT business, I still use it to draw things out. I want see a quick picture of how the data will flow through a system and the in/out flow between components. Even if I don't go back to the notes, it's using it more as a thought process to sketch out what I want to do.
Another piece that we use to heavily break down our development process and our flow is that Atlassian has a few products including JIRA, which helps break down our tasks for the day, and Confluence. Confluence is a collaboration tool, where we can create wikis to document processes and procedures or best practices that our team can leverage to solve their problems or not recreate the wheel everytime. 
10. What is one piece of advice you've never forgotten?
Have courage, be kind. It's a motto that I do my best to follow. In the business that I'm in, it's easy to get frustrated with clients, teammates, product support groups and yourself, but if you're kind, when it's not always easy, it's much better when everyone treats each other with mutual respect.
Read more:
Jason DeLano Discusses His Role As a Solutions Architect