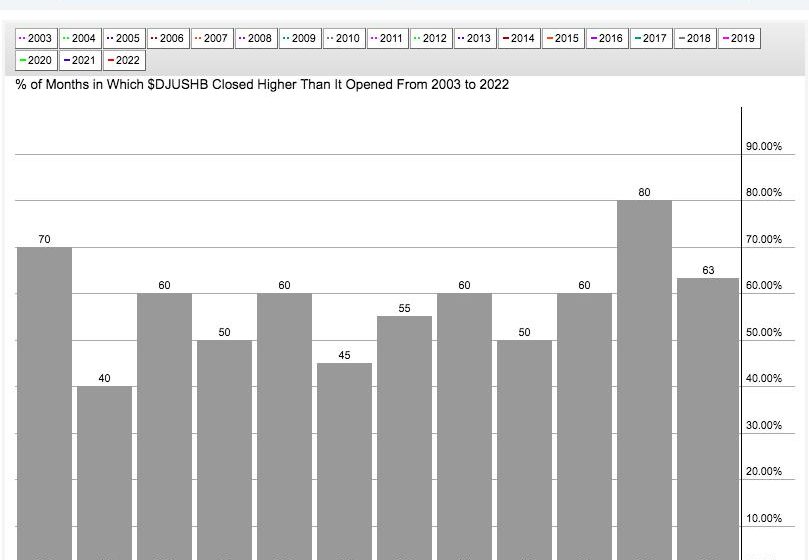 NOW Is The Time To Add This Industry Group To Your Portfolio
As the winter season approaches, I'm going to suggest that you consider buying into what might seem to be a warm weather industry – home construction ($DJUSHB). The "go away in May" theory applies very strongly to this cyclical group. Over the past 20 years, the average 6-month return in this industry can be broken down as follows:
May through October: +0.3%November through April: +12.5%
Does it make any sense? Not at first, because the most popular time to begin building a house is the spring time. It avoids many winter-related delays. But I'm not talking about the best time to build a new home. Instead, when's the best time to buy stocks within homebuilders? Based on the above seasonality chart, that time is November, or RIGHT NOW. While interest rates have been soaring in 2022, the DJUSHB has quietly been improving technically, threatening a key price breakout, while trending up for months relative to the benchmark S&P 500. Check this out:
I called a market top at the end of December and felt we'd see 6-9 months of a cyclical bear market, followed by a massive rally to set new all-time highs. I believe we're now on our way as the Fed pivots away from its hawkish stance.
On Thursday, I'll be featuring the best home construction stock to own right now, in my opinion. It's showing EXCELLENT relative strength vs. its home construction peers and it's averaged gaining 13.4% in the November to January period over the past 20 years. As rates drop, I see this one EXPLODING higher! If you're not already an EB Digest subscriber, CLICK HERE to start your subscription and receive this stock tomorrow morning. Remember, subscription is FREE and you may unsubscribe at any time.
Happy trading!
Tom