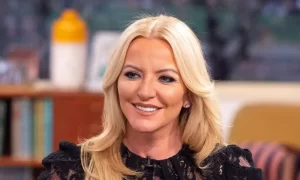 Charities seek to distance themselves from Michelle Mone after PPE claims
Charities linked to Baroness Mone and her husband are distancing themselves from the couple after they were accused of secretly receiving £29 million by lobbying for a PPE company.
ActionAid has said it will no longer accept any donations from the Barrowman Foundation which was founded by Mone's husband, the financier Doug Barrowman, and lists her as a trustee. ActionAid is an international agency that aims to tackle poverty and injustice around the world.
The Prince's Trust and the Royal Marsden Cancer Charity also said they had no plans to receive any future support from Barrowman or Mone. Other charities have said the affiliations on the couple's websites are out of date.
The Charity Commission had already opened a compliance case into the Barrowman Foundation over alleged unsecured loans before the latest accusations.
The foundation lists ActionAid as a partner on their website. However, the charity said: "The last donation we received from the Barrowman Foundation was in 2021 and we will not be accepting any further donations." The spokesman added that they would chase up the removal of the ActionAid logo from the Barrowman Foundation website as it was no longer accurate.
The Prince's Trust also features on the Barrowman Foundation website as a partner. A spokesman for the trust said: "We have not received any funds from Mr Barrowman since February 2019 and have no plans to accept any further donations."
Mone, from Dennistoun, Glasgow, has been vocal in her support of the Royal Marsden Cancer Charity and has donated to the hospital since her mother received treatment for breast cancer there in 2020. After her wedding to Doug Barrowman in 2021, Mone vowed to give her wedding dress and shoes to the charity for auction but decided to make a £10,000 cash donation to the cancer hospital instead.
Yesterday a spokesman for the cancer charity said: "We have been grateful to receive support from Baroness Michelle Mone in the past. We are not in conversation with her regarding future support."
On Mone's personal website, she lists Breast Cancer Care as a key charity partnership where she claims to be a "long-term supporter".
However, the charity, which has since become Breast Cancer Now, no longer has a partnership with Mone. The website, which uses the charity's old name and logo, is out of date. Breast Cancer Now declined to comment.
Mone's website also suggests she still holds an active role with the Prince's Scottish Youth Business Trust but she resigned from their board of directors in 2012, according to Companies House.
Glasgow-born Barrowman, 57, is a qualified chartered accountant and worked for private equity fund 3i before setting up his own corporate finance firm.
In 1999, he founded Aston Ventures, a private investment vehicle which specialised in turning around "old economy" businesses. In 2008 he moved to the Isle of Man and founded the Knox Group, which included Aston Ventures.
The Barrowman Foundation supports charities that work with vulnerable young people. In 2019 Barrowman unveiled the plaque at the opening of the Prince's Trust Doug Barrowman Centre in Ancoats, Manchester.
Mone and her family benefited from £29 million in profits originally derived from a PPE deal secured after she had lobbied ministers, The Guardian reported. Labour forced the government to come to the Commons to address the allegations yesterday.
Mone told her Twitter followers, "Don't believe everything you read" and she and Barrowman have been distancing themselves from PPE Medpro, the company at the heart of the allegations.
Read more:
Charities seek to distance themselves from Michelle Mone after PPE claims