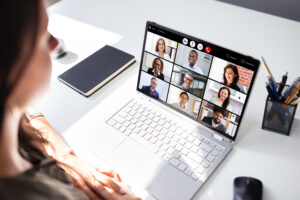 Hybrid Work Trends 2023
Hybrid work is an increasingly popular model that is being adopted by companies around the globe. Some of the world's largest organizations have already gone hybrid, benefiting from happier, more productive employees and cost savings.
Research from Gartner reveals that by 2030, 48% of employees will work remotely, compared to 30% before the COVID-19 pandemic. So, as the adoption of this model rapidly increases, what trends will follow? Let's explore some of the hybrid work trends we will likely see in 2023. The demographic makeup of the workforce is changing, along with their expectations. Millennials and Gen-Z make up 'approximately 38% of the global workforce, and this percentage will rise to about 58% by 2030' (PWC).
These two generations prioritize work-life balance and personal well-being in the workplace more than previous generations, as stated in a recent report by McKinsey. The same report also explains that 'Wellness-related employee benefits are becoming more mainstream.' Of all the wellness benefits employers provide, flexible scheduling is the most used (82% of respondents said they used this benefit). This shift in expectations is one of the many reasons hybrid models are becoming popular.
More surprisingly, these flexible benefits are more important than a pay raise for many candidates. As reported by Forbes, while financial benefits are still a top priority, health and wellness are the top concern. The study found that 'six in ten employees say well-being Benefits will be a top priority when applying for their next job.'
Rent and Energy Crises Increasing Need for Cost Savings
With rent and energy prices rising, so is the need for offices to save costs. In large cities worldwide, property prices are spiking, leaving many businesses questioning whether they can afford their current space. In Germany, for example, each sqm costs 25€. While in larger US cities, like New York and San Francisco, costs are 5 to 6 times greater.
For context, let's circle back to the 1000sqm office space in Germany. Assuming that each employee would need 8sqm and that each sqm costs 25€, property costs (leasing, rent & management) add up to an approximate average of €30,000:
€24,000 for leasing costs and
€6,000 for ancillary costs.
Additionally, there are ancillary costs which include energy, maintenance, and facility management. The World Economic Forum reports a 600% increase in European gas price as of 2021, and the number is likely to rise, catalyzed by the conflict in Ukraine.
Research by JLL reveals that there has been a 50% increase in electricity and a 150% increase in gas, leading to an overall 20% increase in ancillary costs. Although property and ancillary costs are rising, organizations can save up to 30% on office costs with a well-structured hybrid work model. Therefore, we will also see greater innovation in hybrid work technology, which will be explored in depth later. These workplace management tools, like deskbird, will help save costs and improve efficiency.
For example, a hybrid multi-national company with 8,000 employees gathered occupancy data revealing low occupancy across their facilities. In response, they closed 4 out of their 5 sites only on Fridays, saving 90,000€ per month.
Prioritizing Employee Well-Being
Wellness has been a buzzword recently, with workplace trends following suit. Investing in employees has a significant impact–improving satisfaction and retention, and decreasing absenteeism. There is no doubt that work-life balance improves in a hybrid environment. Still, other aspects, such as social and career satisfaction, are rarely discussed.
Hybrid work trends will improve additional facets of employee life. In discussing career well-being, for example, upskilling is key–for both new employees and upper management. This means providing the necessary training for each individual to grow in their career. In the hybrid context, upper management will benefit from growing their leadership abilities. As explained by an HSM Advisory report on upskilling managers, leaders need to improve human-centric skills, performance-focused leadership skills, and enabling hybrid skills.
Taking Recruitment Global
Due to labor shortages, hybrid work will benefit the global hiring landscape, providing a wider pool of potential candidates. The Washington Post reports that there are 'more than 11 million job openings and only 6 million unemployed workers.' Companies might expand their recruitment processes to a global scale without requiring employees to work from a specific location.
Distributed work, or employees who work from various places and in different time zones, is a growing trend in the world of hybrid work. It takes remote work a step further by not only allowing employees to work remotely but also to be anywhere in the world.
Research from the Harvard Business Review reveals that 'a third of 100 CEOs from around the world said talent recruitment and retention was their biggest challenge.' Distributed work will help overcome this challenge by expanding recruiting on a global scale to find the best candidates for each role. It will also improve diversity by hiring people with different backgrounds and perspectives. Additionally, as we see a trend toward the nomad lifestyle, businesses that follow a distributed model will be attractive to many individuals who want to travel while they work.
Innovation in Workplace Management Tools
With more companies transitioning to hybrid work comes the need for efficient ways to manage this new model. Hybrid workplace management tools have stepped up to the plate, providing innovative solutions to everyday office problems.
For example, deskbird allows each employee to schedule which days they will be in the office and which desk they would like to book for that time. Additionally, teams can book meeting rooms for collaboration without speaking to an office manager. It allows companies to efficiently and cost-effectively manage space and employee schedules! Along with deskbird, innovation in the hybrid work management space will likely boom. From platforms to make communication between remote employees synchronous to project management.
Hybrid work trends for 2023 reflect the needs of employees in a 'post-pandemic' world. Social interaction and community building are a priority. There is an increased focus on well-being. And the opportunity to create global teams is greater than ever. Additionally, as the cost of energy and living increases, hybrid models help organizations run more cost-efficient offices. But, as with any transition, the right tools, experimentation, and an open mind are crucial.
Is your business considering going hybrid? Try deskbird's hybrid workplace solution to manage your hybrid office!
Annabel Benjamin – deskbird
Read more:
Hybrid Work Trends 2023