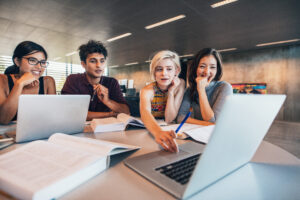 Cloudbooking report: Only 11% of Gen Z workers want to work remotely full time
Because of their known affinity for technology and digital communications, Generation Z seems like a cohort of workers that would take an immediate liking to full-time remote work. But the findings of a recent survey show otherwise.
According to a study by YouGov and Cloudbooking, providers of workspace management software, only 11% of Gen Z workers (young employees between the ages of 18 and 24) consider full-time working from home to be their best working environment — the lowest among the five employee age groups surveyed. In contrast, full-time work-from-home arrangements were ideal among workers between 45 and 54 (33%).
Gen Z workers are least likely to object to working for companies with no hybrid working options
The survey results, published in the report The Future of Work: 8 Trends in Workplace Transformation, also found that Gen Z job seekers were also the least likely to agree (53%) that they would not work for an organisation that did not offer hybrid working arrangements — a setup where workers can split their time between working remotely and working in the office. For context, the absence of hybrid working is a non-starter for over two-thirds of employees between 35 to 54 years old.
However, these findings should not discount the fact that 65% of Gen Z workers still want the flexibility of a hybrid working environment — a percentage that's slightly higher than the overall average of 64% (all US and UK workers).
Amid discussions of workers resisting a return to the office after the pandemic, Gen Z's willingness to be in the office should be surprising to many employers. However, this is most likely due to Gen Z's current career priorities.
Gen Z want the "normal" office experience
A 2020 PwC survey of 1,200 US workers found that 34% of employees with fewer than five years of work experience were "more likely to feel less productive while working remotely." They also wanted to be in the office more often, preferring to be remote no more than once a week.
The takeaway here is simple: younger and less experienced workers going through the first rung of the career ladder want the social and development aspects of the traditional office environment. With the oldest Gen Z-ers having experienced only a few years of "normal" work before the pandemic hit, many of these younger workers have only had remote work as their frame of reference in the workplace, leading to a dwindling sense of community and a perceived lack of career development opportunities.
Employers should make it a point to maximise the time hybrid workers spend in the office as opportunities for face-to-face connections. According to an Axios report, they can be opportunities for in-person feedback and mentorship, which 66% of young workers want when receiving feedback from their managers.
Cloudbooking's survey results dispel the commonly accepted belief that Gen Z are digital natives who will seamlessly fit into any virtual workplace. Employers must be careful not to make assumptions about Gen Z — or any other generation of workers, for that matter — without first getting their hands on verifiable data and insights.
The risk of jumping to conclusions brings home the point that different individuals face entirely different circumstances. For instance, a 22-year-old fresh graduate with no family may be more likely to want to spend more time in the office than a 35-year-old father of two. Employers must consider their workers' individual needs to determine the best approach to building a hybrid working environment.Learn more about the findings of this Cloudbooking survey by downloading the report The Future of Work: 8 Trends in Workplace Transformation.
Author: Jane Holmes
Jane Holmes is the Head of Marketing and Communications atCloudbooking, a workplace management software provider helping companies build human-centric, hybrid workplaces that improve employee experience and workplace utilisation.
Socials: LinkedIn
Read more:
Cloudbooking report: Only 11% of Gen Z workers want to work remotely full time