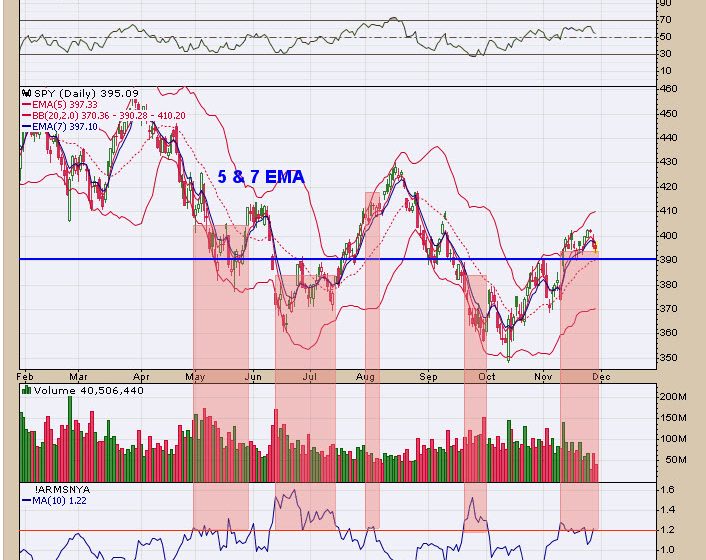 The Ord Oracle November 29, 2022
SPX Monitoring Purposes: Long SPX on 11/10/22 at 3956.27.
Monitoring Purposes GOLD:  Long GDX on 10/9/20 at 40.78.
Long Term SPX Monitor Purposes: Neutral.
The bottom window is the 10-day average of the TRIN. Panic forms at bottoms of markets; a TRIN close above 1.30 is considered a panic level, and a 10-day TRIN reading near 1.20 is considered panic level on a longer-term timeframe. The above chart in the shaded areas are the times when the 10-day trin was near 1.20 or higher. As you can see, these types of readings come near lows or imply a continuation of the rally. Over the last couple of weeks, the 10-day TRIN has stayed near 1.20, suggesting the rally has enough panic in it to continue higher. When the 10-day TRIN closes near .8, a short-term top can occur. Holding long SPX for now.
Above is the weekly SPX with its Bollinger Band. The weekly mid Bollinger Band has turned up, which suggests the SPX has also turned up. The SPX has been trading sideways for the last three weeks, building energy for the next move. So far, the SPX has virtually no retracement over the last three weeks, suggesting that the market is in a strong position. Momentum has turned up as the SPX is above the mid Bollinger Band, which also turned up. The September and October lows broke below the June low, but were unable to hold below the June low. If a market can't hold below a previous low it will reverse and attempt to take out the previous high. The previous high in this case is the August high, near 4300 SPX. Notice also the 4300 SPX is where the weekly mid Bollinger lies, which could act as resistance. A possible upside target is the 4300 SPX level in the coming weeks.
Tim Ord,
Editor
www.ord-oracle.com. Book release "The Secret Science of Price and Volume" by Timothy Ord, buy at www.Amazon.com.
Signals are provided as general information only and are not investment recommendations. You are responsible for your own investment decisions. Past performance does not guarantee future performance. Opinions are based on historical research and data believed reliable; there is no guarantee results will be profitable. Not responsible for errors or omissions. I may invest in the vehicles mentioned above.