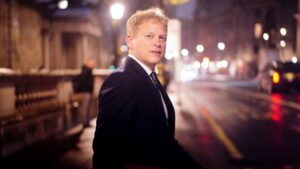 Grant Shapps defends flexible working rights
The business secretary has defended new flexible working rights after a scathing attack from Sir James Dyson, insisting they are "sensible" and reflect "a modern workplace".
The government said last week that it would legislate to give workers the right to request flexible working from day one of their employment, rather than waiting until 26 weeks as at present.
Last week, Dyson called the government's decision "economically illiterate and staggeringly self-defeating". The vacuum cleaner tycoon argued that working from home did "huge damage" to companies and employees alike and that the new policy would drive away investment, rendering Britain a "lackadaisical global outlier".
Asked about the criticism by MPs on the business, energy and industrial strategy select committee yesterday, Grant Shapps said: "We're in a modern workplace. We are living in a society where we recognise the importance of the balance between working and living our lives."
The business secretary said he understood the concerns of employers, citing his own experience of starting a company 33 years ago with "all the worries of employing people, trying to juggle if somebody wasn't there". But he added: "What we've said is that people should be able to ask the question. In other words, we're trying to set the ground rules, but we're not forcing the answer."
He insisted that "this conversation is worth having at the beginning". Asked whether it should take place at the interview stage, he said: "Hopefully this will encourage that conversation to take place."
"The way you get the best employers and employees or relationships is by recognising these things and having conversations . . . and knowing what the expectations might be," he argued, adding that he recognised that "you don't want to make it so prescriptive, that in the end that leads people not being employed in the first place".
In a select committee hearing yesterday it also emerged that a final investment decision on a new nuclear plant at Sizewell C in Suffolk may not take place for another three years.
Sarah Munby, permanent secretary at the department, told the committee: "The exact timing will depend on progress in working with private sector investors . . . but off the top of my head, I think we're expecting 2025, 2024."
A final investment decision in 2025 would be much later than hoped for by EDF, the lead developer, which told the science and technology committee last month it was hoping for a decision within 12 to 18 months, and ideally in 2023.
With a general election due no later than January 2025, this timescale calls into question the government's aim to "bring at least one large-scale nuclear project to the point of final investment decision by the end of this parliament".
Shapps told MPs it did not want to repeat mistakes made at nuclear projects elsewhere in the world where projects had rushed the design work and "ended up regretting not being in a more ready state for the actual construction itself". "I'm more interested in making sure that we've got the detailed planning in place for this construction than I am rushing the finance side of it right now," he said.
Read more:
Grant Shapps defends flexible working rights