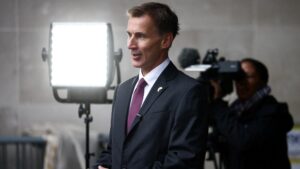 Bank of England Governor warns Hunt over City deregulation
The governor of the Bank of England has sounded a warning note to the government not to move too far or too fast in deregulating the City.
The stronger rules put in place after the banking crisis of 2007-09 were "done for an important reason", said Andrew Bailey, and were "pretty fundamental planks" that should not be removed. His comments came three days after Jeremy Hunt, the chancellor, outlined 30 City reforms that he said would do away with hundreds of pages of EU legislation and "turbo-charge growth".
These included changes to the ring-fencing rules, introduced to protect UK taxpayers from having to bail out banks again, new freedoms for building societies and the watering down of disclosure rules for short-sellers.
While Hunt said the changes were proportionate and took account of consumer protection and financial stability, some argue that they could chip away at hard-won reforms. Sir John Vickers, the former Bank chief economist and architect of the ring-fencing rules, said they could take the UK down an "extremely dangerous path".
Bailey said regulation should not be set in stone but added: "I would, however, caution that the notion that we're past the financial crisis and we therefore don't need the regulations that we had post the financial crisis, I would not go along with that view." The tougher regime was "not done just to address a particular problem that then went away. It was done to put down what I would regard as pretty fundamental planks of the regulatory system".
He was speaking as he published the Bank's Financial Stability Report, which called for minimum standards in liability driven investment. The £1 trillion investment technique used by traditional pension schemes exacerbated the gilts crisis in September.
Read more:
Bank of England Governor warns Hunt over City deregulation