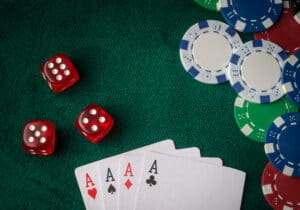 Practical Tips to Learn How to Play Poker
Poker is a popular card game that players of all levels of experience can enjoy. If you are new to poker games, it can be helpful to learn some practical tips to help you play better poker.
In this blog post, we will discuss some of the basics you need to know to play poker effectively. We will also provide some advice on how to play poker and improve those poker skills.
Poker is a game of chance but requires skill and strategy. If you're interested in learning how to play poker, there are a few things you need to know. First, it's essential to understand the basic rules of the game. Second, you need to be able to read your opponents. And finally, you need to know when to bluff. So, read on for some valuable tips, whether you are just starting or looking for ways to take your game to the next level.
Here are 15 practical tips for playing poker:
Start by learning the basic rules. If you are unfamiliar with the game, it is essential to understand the basic rules before playing. You can find plenty of resources online or in books that will teach you the basics. Once you have a good understanding of the rules, you can start practicing with some friends or family members.
Watch televised poker games. One of the best ways to learn how to play poker is to watch other people play. You can learn a lot by observing how professional players approach the game. There are also many instructional videos available that can teach you some basic strategies.
Join a local poker club. If there is a poker club in your area, consider joining it. Doing this is a great way to meet other poker enthusiasts and learn from more experienced players.
Play online poker. Another option for learning how to play poker is to play online. Many websites offer free or real money games, which can be a great way to practice your skills and try out different strategies.
Read poker books. If you want to learn more about the game, plenty of excellent poker books are available. These books can teach you advanced strategies and provide insights into the thinking of top players.
Attend a poker workshop or tournament. Consider attending a poker workshop or tournament if you want to take your game to the next level. These events can provide you with valuable experience and expose you to some of the best players in the world.
Hire a poker coach. If you are serious about becoming a better poker player, you may want to hire a coach. A good coach can help you identify your weaknesses and work on improving your game.
Study poker strategy. In addition to reading books and watching videos, studying poker strategy is essential. There are many resources available that can help you learn about the different aspects of the game.
Practice, practice, practice. The only way to get better at poker is to play as much as possible. So, find opportunities to play whenever you can. You can play with friends, family members, or even strangers online.
Keep a poker journal. A great way to track your progress and identify improvement areas is to keep a poker journal. Each time you play, note how you did and what you could have done better.
Review your hands. Another helpful exercise is to review your hands after each session. Doing this will allow you to see where you made mistakes and to learn from them.
Analyze your opponents. One of the essential poker skills is being able to read your opponents. Pay attention to their betting patterns and figure out what they think.
Stay calm and focused. It is essential to remain calm and focused when you are playing poker. If you let your emotions get the best of you, it will only lead to mistakes.
Manage your bankroll. One of the most important aspects of poker is money management. Make sure that you only gamble with money and poker chips that you can afford to lose.
Have fun. Poker should be enjoyable, so make sure you are having fun while playing. If you are not enjoying yourself, it is time to take a break.
Poker is a complex game that takes time to learn. However, with some practice and these tips, you'll be on your way to becoming a pro. Be sure to sign up for GGPoker today – the world's largest poker room – where you can put your new skills to the test against some of the best players in the world. You can use GGPoker and this guide on playing poker and hopefully improve your poker skills in future games!
Read more:
Practical Tips to Learn How to Play Poker