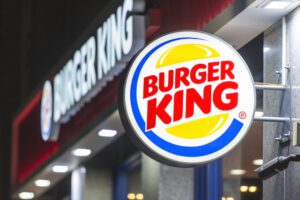 Burger King will close up to 400 stores by the end of the year as fast food giant fails to keep up with fast-casual competition
Burger King has estimated that the fast food giant will have to close up to 400 locations across the US this year.
The iconic burger chain said that underperforming stores will be the first to go.
Following the announcement of the company's first quarter results, CEO Joshua Kobza said the chain expects to shut between 300 and 400 locations in 2023.
This is a historic high – the company usually closes a couple of hundred stores annually, Kobza said.
According to its earnings release, Burger King axed 124 locations in the year up to March, leaving 6,964 restaurants.
Not all of the 300 to 400 locations closing their doors this year have been revealed, as boss Kobza admitted there is 'a fair degree of uncertainty' around the plans.
Sales performance can vary greatly between Burger King locations, and the company said it is seeking additional franchisees with stronger finances this year.
Chairman Patrick Doyle said: 'There will always be a minority [of franchisees] who aren't dedicated, enthusiastic operators. We'll work with them to leave the system and move on to do something else.
'There simply is no room for franchisees who are not willing or able to work hard to operate restaurants that are better than the system average over the long term.'
It comes after two Burger King franchisees declared bankruptcy earlier this year.
For decades, the home of the Whopper has had to live in the shadow of the Golden Arches of McDonald's as America's second-biggest burger chain. In 2020, it lost its second-place spot to Wendy's.
Last month, an analyst said that the chain was at risk of entering into a 'death spiral' if it failed to play catch-up with its rivals.
Meridian Restaurants Unlimited filed for bankruptcy in March, struggling with rising food costs and poor sales at over 100 locations it operates.
It will close 27 locations across seven states including Minnesota, Montana and Utah, having reportedly racked up $14 million in debt.
The franchisee said it was 'possible, if not likely' they would be pressed to close more stores as they negotiated rent and operational improvements with landlords.
Another franchisee, EYM King of Michigan, also announced it was closing 26 restaurants across the state in March after the chain missed a deal with the Department of Labor.
The fast food giant announced it would lay off 424 members of staff as it geared up to close the restaurants through April.
In a letter to the state Department of Labor and Economic Opportunity, EYM King of Michigan LLC said they had failed to reach an agreement with Burger King Corp.
90-unit operator Toms King filed for Chapter 11 bankruptcy protection in January and had to be sold out for $33million.
Other struggling locations are expected to be bought out. According to Restaurant Business, 37 stores in Virginia are expected to be bought for $22million by DC Burger.
Meanwhile Karali Group is reportedly set to pay more than $7million for 27 spots in Ohio and Pittsburgh, Pennsylvania.
In its first quarter results, the company reported that despite store closures, its comparable sales rose 8.7 percent.
The brand will be hoping that its $400 million 'Reclaim the Flame' turnaround plan may be starting to work.
The plan, launched in September 2022, aims to accelerate sales growth, drive franchisee profitability, revive run-down restaurants and streamline overly complicated menus and operations.
Read more:
Burger King will close up to 400 stores by the end of the year as fast food giant fails to keep up with fast-casual competition