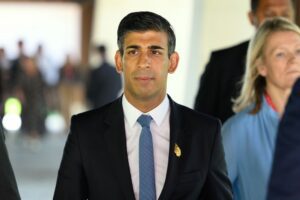 Sunak to hold talks about food inflation with industry chiefs
Rishi Sunak is to hold talks with supermarket bosses, trade bodies and farmers this month to address concerns over surging food prices and wider industry issues.
Wm Morrison Supermarkets, the British Retail Consortium, the Food and Drink Federation and the National Farmers' Union are among those due to attend the UK Farm to Fork Summit at No 10 on May 16.
It is understood that the gathering will focus on how the government and the food industry "must continue to work together at every stage of the food system, from farming to manufacturing, distribution and retail . . . to bring great British food to the world, build resilience and transparency across the supply chain, strengthen sustainability and productivity, and support innovation and skills".
The government declined to provide further details yesterday, as the agenda was still being finalised. However, a source said inflation would be high on the agenda, as part of four wider themes: trade and exports; supply chain resilience and exports; growth and sustainable farming; and innovation.
"It's an opportunity to look at the UK supply chain and see what more it could do to increase production sustainably domestically, but also increase exports based on efficient, well-run production," they said.
It comes after the government promised the NFU last year that it would look at food production and resilience more generally. The urgency to hold talks has intensified in the wake of Russia's invasion of Ukraine, which has helped to propel grocery inflation to record highs.
Glyn Roberts, president of the Farmers' Union of Wales, said: "We welcome the prime minister's recognition of the impact the food security crisis is having on food price inflation, which is affecting so many households, the dangers of which we have been highlighting for many years. Without a meaningful strategy and genuine support for our farmers and food producers from government, this insecurity and volatility will continue."
The Food and Drink Federation said: "The constant push from government for further or more complex regulation with the Windsor Framework [between the UK and European Union] and much-needed but badly designed recycling programmes . . . is providing a trapdoor to yet more price increases. If government is serious about driving down inflation and driving up investment, it needs to work with the sector to find pragmatic and business-friendly solutions."
Read more:
Sunak to hold talks about food inflation with industry chiefs