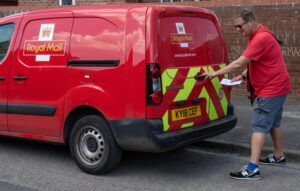 Royal Mail could face fine as regulator looks into late deliveries
The communications regulator has launched an investigation into poor performance at Royal Mail that could lead to a fine after more than a quarter of first-class mail was not delivered on time.
Ofcom said it would examine the postal service operator's failure to meet targets during a year marked by a long-running industrial dispute, which led to the resignation of the chief executive on Friday.
Royal Mail is required to deliver 93% of first class mail within one working day of collection and 98.5% of second class mail within three working days. Its workers are also required to complete 99.9% of routes on each day that a delivery is required.
However, the 507-year-old service has revealed that – over the last year excluding Christmas – only 73.7% of first class mail was delivered on target, 90.7% for second class and only 89.4% of delivery routes had been completed.
The regulator said on Monday: "Ofcom takes compliance with the quality-of-service targets very seriously." It will now study whether there are "reasonable grounds for believing that Royal Mail has failed to comply with its obligations".
Ofcom added: "In deciding whether the company is in breach of its obligations, we will consider if there were any exceptional events – beyond the company's control – that may have explained why it missed its targets.
"If it does not provide a satisfactory explanation and we determine that Royal Mail has failed to comply with its obligations, we may consider whether to impose a financial penalty."
Late last year, the regulator told Royal Mail it could no longer use the pandemic as an "excuse for poor delivery performance".
The in-depth review will run alongside Ofcom's regular annual study of Royal Mail's performance.
The Royal Mail chief executive, Simon Thompson, said on Friday that he would step down from the role, which he took up just over two years ago, after a bruising, year-long dispute with the Communication Workers Union over pay and working conditions.
A deal with the union was agreed last month after 18 days of strike action and will be voted on at the end of this month.
Royal Mail's owner, International Distributions Services, is due to report its annual results on Thursday.
The company's delivery performance came under scrutiny from the Commons business select committee, amid evidence that the company was prioritising delivering parcels over letters.
Royal Mail has spent much of the last decade attempting to revamp the business to cope with the long-term decline in the posting of letters and the rapid increase in online shopping, fuelling increased volumes and competition in the more lucrative parcels market.
Thompson becomes the latest in a succession of Royal Mail bosses to leave after drawn out conflict with unions over implementing change into the business, which was privatised in 2013.
Read more:
Royal Mail could face fine as regulator looks into late deliveries