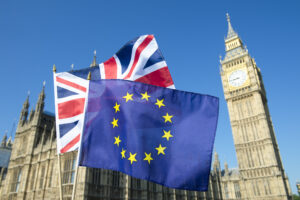 EU upgrades its forecasts but says UK will lag behind
The European Union has upgraded forecasts for its growth this year, while predicting a "modest contraction" in the size of the British economy.
European Commission spring forecasts increased predictions of growth in the EU to 1 per cent, up from 0.8 per cent in February, with persistent inflation posing the greatest risk to the economy.
In contrast to European economies, Britain is forecast to face a contraction of 0.2 per cent this year. Estimates suggest it will continue to lag behind European economies in 2024 with a growth of 1 per cent compared to 1.7 per cent.
"The UK economy is expected to see a modest contraction in 2023, as household real incomes continue to fall and consumption and external demand soften, while business investment remains weak," said the forecast from Brussels. A mild recovery is expected in 2024, as inflation continues to ease and growing employment and rising real wages boost household real incomes.
Paolo Gentiloni, the EU's economy commissioner, said: "The European economy is in better shape than we projected. Thanks to determined efforts to strengthen our energy security, a remarkably resilient labour market and easing supply constraints, we avoided a winter recession and are set for moderate growth this year and next."
Gentiloni warned that while lower than expected energy prices following Russia's invasion of Ukraine have lifted the growth outlook "downside risks to the economic outlook have increased", particularly because of core inflation.
"Risks remain too plentiful for comfort and Russia's brutal invasion of Ukraine continues to cast a shadow of uncertainty over the outlook. We must remain vigilant – and stand ready to respond to any future shocks," he said.
In a mark of concern, the eurozone inflation forecast has also been revised higher, and is now forecast to hit 5.8 per cent in 2023 compared to 5.6 per cent in February.
"As inflation remains high, financing conditions are set to tighten further," the forecast said.
"Though the ECB and other EU central banks are expected to be nearing the end of the interest rate hiking cycle, the recent turbulence in the financial sector is likely to add pressure to the cost and ease of accessing credit, slowing down investment growth and hitting in particular residential investment."
Urging governments to cut back on spending, the commission warned that an "expansionary fiscal policy stance would fuel inflation further".
"In addition, new challenges may arise for the global economy following the banking sector turmoil or related to wider geopolitical tensions," the forecast said.
The more optimistic Brussels forecast came as figures for March showed a sharp fall in eurozone industrial production with a contraction of 4.1 per cent in production of capital goods, adding to a 1.4 per cent year-on-year decline.
Read more:
EU upgrades its forecasts but says UK will lag behind