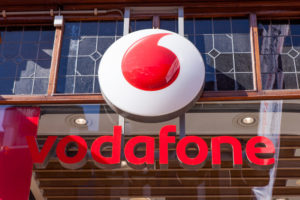 Vodafone to cut 11,000 jobs in turnaround plan
Vodafone's new chief executive said she would cut 11,000 jobs over three years as she set out her plans to simplify the telecoms group.
Margherita Della Valle said the telecoms company's performance has not been good enough and it must change.
"My priorities are customers, simplicity and growth. We will simplify our organisation, cutting out complexity to regain our competitiveness," she said.
The growth plan included a turnaround in Germany, which is its biggest market and continues to underperform, and a strategic review in Spain.
The job cuts are the biggest yet at the company, which employs more than 100,000 people.
Vodafone reported a 0.3 per cent rise in full-year revenue to €45.7 billion over the period. Its preferred measure of profit – earnings before interest, taxes, depreciation, amortization and special losses (Ebitdaal) – slipped to €14.66 billion, in line with City expectations.
Vodafone cut its free cash-flow forecasts for the current year. The company said it would generate about €3.3 billion of cash this financial year, compared with €4.8 billion in the year to end to March. Analysts had forecast a figures of around €3.6 billion.
Over the past ten years shares in Vodafone have fallen almost 75 per cent. The FTSE 100 has risen more than 15 per cent over the same period. The shares fell 2 ¾p, or 3 per cent, to 87 ¼p this morning.
On its proposed tie-up of its British business with Hutchison's Three UK, Vodafone said there could be no certainty that any transaction would ultimately be agreed.
Read more:
Vodafone to cut 11,000 jobs in turnaround plan