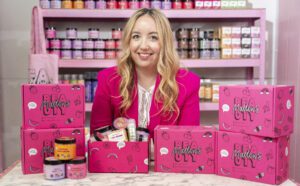 Development Bank of Wales is feeling good with investment in Mallows Beauty
The Development Bank of Wales has confirmed its support for vegan beauty brand Mallows Beauty with a six-figure funding package including a mix of debt and equity that will help to fund product development and export growth.
It's  the second investment in the fast growth business by the Development Bank since 2021.
Based in Pontyclun, award-winning Mallows Beauty was founded by Laura Mallows and Ronnie Bourne in 2020. River Island and Oliver Bonas stock products and the brand has recently launched in 177 Urban Outfitters stores in the United States.
Laura Mallows said: "I founded Mallows Beauty in 2020 because, after battling with self-image, acne, and anxiety my whole life, it became clear that the industry needed a brand based on real babes, real skin and real bodies. The industry has historically contributed to damaging our body image, which is why I wanted a different approach. For us, promoting self-love and body positivity is not just a marketing tactic, it's at the core of everything we do – from our product designs to our social media posts.
"We make sure that our messaging is inclusive and reflective of diverse body types. Every campaign and product is created with the intention of promoting body positivity and self-care. We're on a mission to change the world one body scrub at a time. This investment will help us to reach our full potential – it's also going to mean that we no longer continuously run out of stock.  We are so grateful for our fantastic relationship with the Development Bank. They've been a long-standing supporter of the brand so they were our first port of call when planning our next growth chapter."
Portfolio Executives Sam Macalister-Smith and Kelly Jones of the Development Bank of Wales are supporting the business. Sam said: "Mallows Beauty is a fun, innovative and down to earth 'self-love' brand focused on self-care and mental wellbeing, targeting Gen Z and young millennials. From a humble start, the team has demonstrated excellent revenue growth and now employs 14 with high ambitions to rapidly expand in the United States and Australia. Our funding is a really exciting opportunity to help scale the business in a fast growing global market and fits well with our commitment to incorporating ESG factors into investment, analysis and decision making."
John Saunders is advising Mallows on corporate finance. He said: "I have worked closely with the proprietors and the Development Bank on this over the last six months to facilitate a funding package to suit their expansion in the marketplace."
The investment in Mallows Beauty comes from the £500 million Wales Flexible Investment Fund. With loans, mezzanine finance and equity available from £25,000 to £10 million, the fund provides 15-year terms.
Read more:
Development Bank of Wales is feeling good with investment in Mallows Beauty