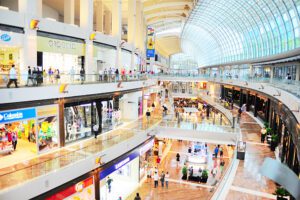 UK retailers are missing out as shoppers are going abroad to save on VAT
British shoppers looking to cut the cost of big purchases are travelling to the Continent where tax breaks are still offered.
Luxury goods retailers, upmarket stores and lobby groups including VisitBritain, Harrods and Watches of Switzerland, have been campaigning for the restoration of tax-free shopping for overseas visitors, warning that London is losing business to cities such as Milan and Paris.
The scheme, which allowed visitors from non-EU countries to recover the VAT on purchases, was abolished when Britain left the EU on January 1, 2021.
However, businesses have warned that the end of the scheme is not just hurting tourism in the UK. British domestic shoppers are also travelling to European cities to buy big-ticket and luxury items, creating a further knock-on impact on retail, tourism and hospitality.
Sacha Zackariya, chief executive of ChangeGroup, a UK-based retail foreign exchange and bureau de change company, said: "Now the UK is out of the EU, more people are taking advantage of tax-free shopping in the EU.
"The lack of VAT refunds compared to the EU is already dissuading high-value shopping tourists from visiting the UK or shopping here when they do.
"But now there is evidence that domestic shoppers are also popping offshore for high-value purchases, making big savings in the EU."
Data from Global Blue, a tourism shopping tax refund company, said there was a 200 per cent increase in UK residents claiming back VAT for purchases in the EU in 2022, with more than €500 million claimed.
ChangeGroup estimates that more than £1 billion worth of purchases, many of which would have been made in the UK, will now be made in the EU.
A purchase of £300 could save a consumer £60 in VAT, "which could make a city break to Paris or Madrid very attractive", it said.
"From watches to iPhones, it just doesn't make sense to buy items over £300 in the UK anymore, with a quick trip to Spain or France enabling people to save potentially hundreds of pounds on VAT," Zackariya added.
Sylvie Freund-Pickavance, global strategy and business development director at the Bicester Collection, the owner of the cut-price designer shopping village Bicester Village in Oxfordshire, said: "Our UK domestic customers are doing heftier spends outside the UK. They are starting to understand that they can delay purchases to shop abroad where they might find the same item cheaper because they can claim back VAT."
The Bicester Collection owns 11 shopping destinations across the world.
Freund-Pickavance said: "While the UK is not doing too badly, the growth in our French, Italian and German villages is more than double-digit, and close in some countries to triple-digit.
"There is an enormous lost opportunity in the UK. If we want to say we're open for business, we have to mean it. The UK is amazing as a country, the culture, the history, the food, is fantastic, so why make it so difficult to come?"
Brian Duffy, chief executive of Watches of Switzerland, said that the impact had been felt by businesses across the UK, particularly in key tourist destinations such as London, Manchester and Edinburgh.
"We know that tourists are now switching their travel plans to visit cities like Milan or Paris, and the result is a drop in footfall and sales for the UK's hospitality and retail industries."
Read more:
UK retailers are missing out as shoppers are going abroad to save on VAT