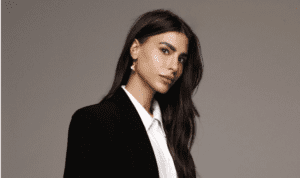 Israeli actress Roni Nadler to invest £7M in British film industry through UK production company
Israeli actress Roni Nadler has launched a new production company in London, aiming to invest £7 million in the British film industry this year.
The newly established company, Nadleroni Inc., will open its doors this week in the vibrant neighborhood of Soho, at the heart of London, operating under the umbrella of the Roni Nadler Inc. group.
Nadler's vision is to create fresh and impactful content through collaborations with Israeli and international organisations, with a particular focus on addressing controversial topics through documentaries and feature films.
The production company's expansion plans include the recruitment of at least 15 professionals by year-end, encompassing scriptwriters, directors, casting managers, content experts, and film executives. Working in partnership with various stakeholders, the company aims to produce content that delves into pressing social, political, and cultural issues of our time. Roni Nadler UK aspires to invest over £120 million in productions over the next decade.
Commenting on the venture, Roni Nadlersaid, "The Israeli film industry is renowned for its development of unconventional and distinctive content. By establishing a dedicated presence in London, we are well-positioned to spearhead exciting collaborations with the British film industry."
Nadleroni Inc. will specialise in the development and production of a diverse range of content, including feature films, documentaries, reality shows, and docu-reality shows. The team's inaugural project, a docu-reality series, will commence filming in the near future, with further details to be announced in due course.
Read more:
Israeli actress Roni Nadler to invest £7M in British film industry through UK production company