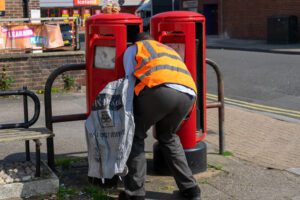 Royal Mail blames strike action for slumping to year loss of more than £1bn
Royal Mail has blamed strike action for helping send it slumping to a full-year loss of more than £1 billion.
The group's owner, International Distributions Services (IDS), revealed Royal Mail swung to an operating loss of £1.04 billion for the year to March 26, against earnings of £250 million the previous year.
On an underlying basis, Royal Mail saw operating losses of £419 million, against profits of £416 million the previous year.
IDS said the losses were due to crippling industrial action, while it also booked a £539 million writedown on the value of Royal Mail due to the impact of strikes and the "current risk backdrop".
IDS overall posted a £748 million annual operating loss, against profits of £577 million the previous year, but IDS said it was targeting a return to underlying earnings over 2023-24.
The figures come after Royal Mail last month agreed a deal with the Communication Workers Union (CWU).
But it faces further turbulence with chief executive Simon Thompson recently announcing he will step down by the end of the year and news last week that Royal Mail is being investigated for failing to meet its delivery targets in the past year.
Read more:
Royal Mail blames strike action for slumping to year loss of more than £1bn